David Nycum Memorial Fund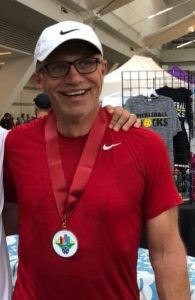 David Nycum was an active member of the Hagerstown YMCA for most of his adult life. Among other pursuits, he played in a men's basketball league, played competitive table tennis and racquetball, and began his love of pickleball at the Y. He also served on the committee to oversee the installation of the Y's outdoor pickleball courts. David became a competitive pickleball player and certified coach and medaled in numerous tournaments, twice qualifying for the National Senior Olympics.
Tragically, David collapsed on July 14, 2020, at the age of 63 and passed away on July 26. His presence is greatly missed by all who knew him. Memorial donations in his name led to the first annual David L. Nycum Memorial Pickleball Tournament, held at the YMCA in 2021.
The David L. Nycum Memorial Scholarship of $1,000.00 is awarded to graduating seniors affiliated with the Hagerstown YMCA in some capacity—as employees, as part of a team or program, or as participants in a Y class or activity.
The criteria to apply for this scholarship is as follows:
Applicant(s) must be actively involved in the YMCA—as employee, team or program member, or participant in a class or activity
Applicant(s) must be a high school graduating junior/senior and have a grade point average (GPA) of at least 3.0
Applicant(s) must plan to attend a 4-year university, 2-year college or trade school of higher education, and the scholarship funds will apply towards this institution
The application will be reviewed, and recipient(s) selected by a committee consisting of YMCA staff and David L. Nycum Memorial Pickleball Tournament Committee members. Applications need to be returned to the YMCA by Saturday, April 15th 2023.
The committee also welcomes your interest in becoming a sponsor of this tournament in order to fund additional yearly scholarships. This year's tournament will be held on September 16th & 17th, 2023.
Checks may be made payable to the YMCA of Hagerstown, appropriated to the David L. Nycum tournament and mailed to:
YMCA of Hagerstown
1100 Eastern Boulevard N.
Hagerstown MD. 21742
2022 Recipient
Congratulations to North Hagerstown High School senior Jack Martin – recipient of the first scholarship awarded from the David L. Nycum Memorial Pickleball Tournament. The $1,000 scholarship will be sent to Wake Forest University, where Jack will continue his education in the fall.
2023 Tournament